Sanctions Explorer: a C4ADS Data Tool
The Bottom Line Up Front
Making sanctions easier to navigate is a priority for enforcement agencies around the globe, but the interfaces are often less than optimal. That is why C4ADS is proud to introduce Sanctions Explorer, a public tool to make searching and analyzing US, UN, and EU sanctions a little bit easier. For more on how we built it, read our companion blog post.

Why We Built Sanctions Explorer #
Sanctions are one of the most powerful enforcement tools available to counter illicit networks and malign actors. More flexible than military power and more fast-acting than traditional judicial processes, sanctions rely on the broad reach of the US financial system to compel designated actors into compliance with global norms on everything from cyber activity to human rights violations and corruption.
While sanctions are formulated and issued by small government agencies such as the US Department's Office of Foreign Assets Control (OFAC), the UN Security Council, or the European Commission, the actual day to day screening action is outsourced to private actors such as banks, logisticians, service providers, and other private companies. This allows small, elite offices like OFAC to punch above their weight and exercise an outsize influence in global economic and political systems.
But the formulation of sanctions themselves remains understudied as a tool not only of US policy, but of global governance. Partially, this is because trends-level data on sanctions is relatively difficult to access. While it's possible to use OFAC's website to find data on currently sanctioned entities, the interface is not very user-friendly, and no historical data is available for entities removed from the sanctions lists. In addition, while information is more readily retrievable from data products like WorldCheck, Sayari Graph, and others, these platforms are typically designed for and sold to banks and other relatively wealthy actors. This means that researchers, civil society, and other important actors often have less access to high-quality, easily-accessible sanctions data.
The result of this data scarcity is that several important questions often go unanswered. For instance, try using OFAC's site to see how many sanctions were levied in 2015. Or try finding out how many Iranian entities have been sanctioned under cybersecurity-related sanctions programs. Finally, try finding records of entities that, at one time or another, were sanctioned but no longer are today.
To help answer these and other questions, several years ago we teamed up with Archer Impact, a student-led group out of the University of Berkeley, to create a platform that would scan OFAC's website for updates and display them within a simple search interface. The website introduced a simple search bar to allow users to quickly and easily find sanctioned entities, individuals, and companies.
But the original Sanctions Explorer didn't do everything that we or our partners wanted it to. For instance, after releasing the original application, we would frequently get questions about who had been de-listed, or questions about programs beyond OFAC (such as those sanctions programs managed by the EU or the UN). Often our partners would want to know how they could drill down into sanctions data with more precision than our original platform allowed – for instance, by layering multiple filters onto data to extract finer insights. Other times our partners were interested in big picture stts like how many Iran sanctions occurred in a given year. While the old Sanctions Explorer system could answer some of these questions, it was never designed to be an analytical tool – rather, it was meant to be a search and retrieval platform.
Given these limitations, we wanted to create a platform that would go beyond search to provide sanctions insight.
This year, we are releasing Sanctions Explorer 2.0, a tool designed to provide easy search and analytical functionality for government officials, compliance professionals, civil society researchers, and beyond. The new platform introduces several features designed to make it easier for all potential users to get from questions to insight faster.
De-Listings and Lookbacks
One of the most important feature requests that we created in Sanctions Explorer 2.0 was the ability to look at historical de-listings. De-listings remain one of the least-studied facets of the global sanctions regime. While de-listed entities are no longer under any sort of administrative or legal penalty, overall trends in listing and de-listing are important for compliance officers and researchers alike to understand.
Consider, for instance, a bank conducting a lookback analysis of historical activity for a customer who was de-listed. For this bank, it's not enough to understand that a customer has been de-listed – they need to know when de-listing occurred. If that customer was at one point an account-holder, then the compliance department needs to understand exactly when that customer held banking privileges and whether the bank facilitated any illicit activity in servicing the client during a period when he or she was sanctioned.
Filters for Advanced Analysis
Another important new feature is the ability to layer multiple filters to a given search query in order to return precise results about sanctions patterns in a given program or geography. The platform now allows users to construct more complicated queries – for instance, by layering multiple filters, users can search for all individuals of nationality Iranian sanctioned under cyber programs
While the OFAC site and the former version of Sanctions Explorer provided for some ability to cross-filter, this was limited by the interface. For instance, on OFAC's site if you search for country+program for Iran Cyber, you only get 4 hits. On the other hand, searching within Sanctions Explorer yields 17 hits. When you investigate further, you find that all of the other 13 hits are within OFAC's system, but because "nationality" cannot be filtered in quite the same way, they don't appear as a valid search result.
Download Feature for Academics and Civil Society
We wanted to make sure that the results of tailored queries are available to academics and civil society researchers (as well as bankers and government officials) researching sanctions. When a user submits a query, the site allows them to download the results of that query as a CSV by clicking on the download button at top right. With this feature, we hope to make it easy for researchers to drill down on their particular queries to better understand the sanctions ecosystems they are studying.
Data Visualization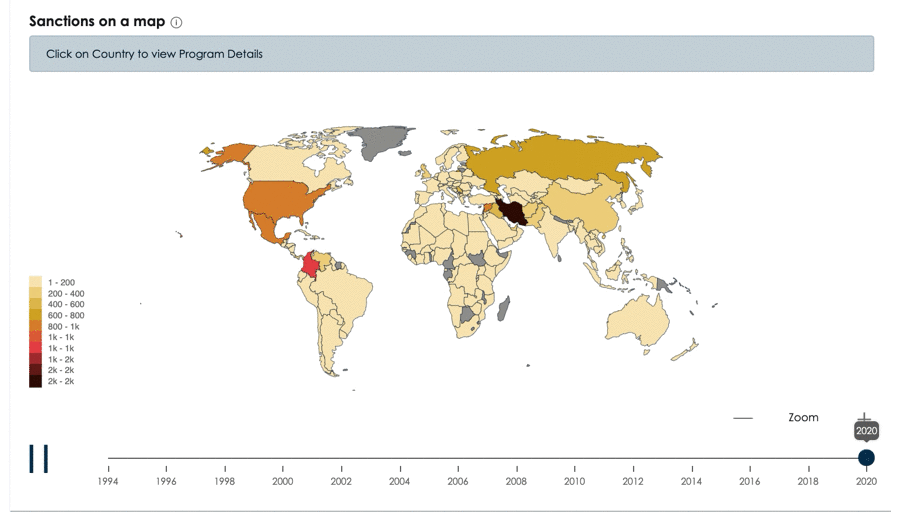 Finally, we wanted to be able to present the data using some compelling data visualizations. Under the Analysis tab, we have implemented several visualizations that let users see slices of their search queries, either broken down by geography, time, or program. Here, those who are more interested in macro-level statistics than entity level profiles can quickly construct queries that let them understand the overall trends associated with sanctions across time and space.
Building Better Sanctions Visibility Together
Sanctions are an important global policy tool – and it's important for researchers and academics to have visibility on the ways that they are used and the trends behind their use.
This portal is only the beginning – we invite those in the community to collaborate with us to continue to build new features for Sanctions Explorer. If you are interested in helping shed light on this issue, or have any suggestions for improving the system, please reach out through the feedback form on the site!